Malaysia is well known for its iconic Petronas Towers and its lavish capital, but the country is not just about commercial buildings. Some of Malaysia's best islands are also home to spectacular deserted beaches and lazy atmospheres, similar to those in neighboring Philippines, Indonesia, and Thailand.
Some of the most exceptional Malaysian islands are still somewhat obscure, while others have become honeymoon destinations or getaways, known for offering a combination of luxury, and culture in a tropical setting.
With lots of islands in Malaysia, you may feel disconcerted to find the heavenly place that best suits your needs and your budget. Take a look at this list of the ten best islands in Malaysia to inspire you.
1. Perhentian Islands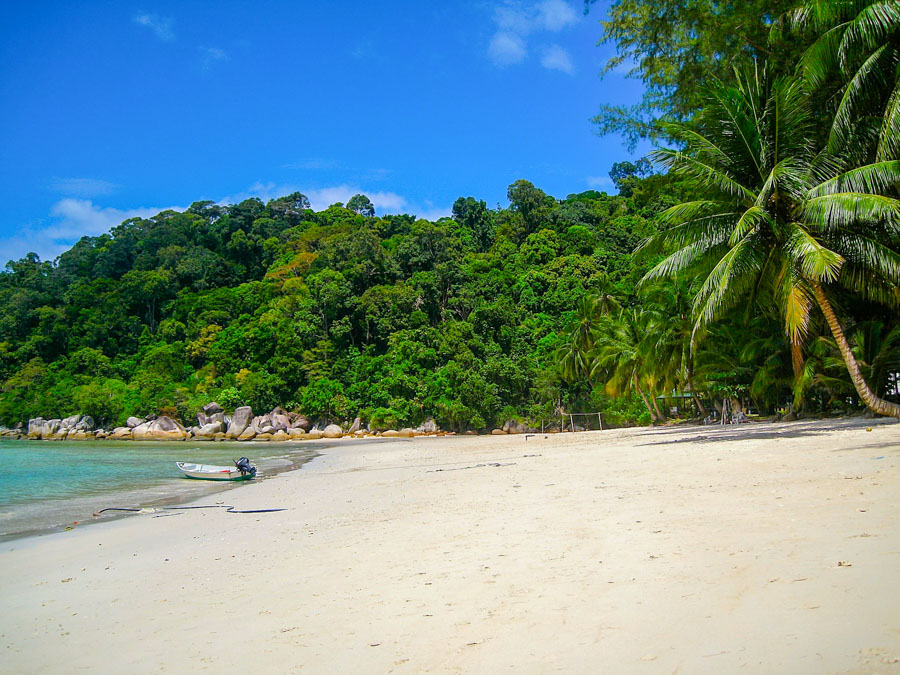 The two main islands of Perhentian (Big Island and Small Island) offer different types of accommodation. The smaller island caters mainly to the backpacker crowd where beach parties are popular. More massive tourism on the island is more for families and those who want to avoid the holidays.
The spectacular beaches of the Perhentians, its blue-green waters, and rich jungle make it one of the best islands in Malaysia for those who wish to enjoy the sun and relax on the white sands. Sounds good no? Best of all, the islands offer excellent snorkeling and diving opportunities, often with excellent visibility.
Perhentians have become very popular with Malaysians and backpackers. So be sure to reserve your accommodation in advance if you plan to go in high season (June – August).
You can reach Perhentians by taking a boat from the jetty to Kuala Besut. Water taxis provide transfers and travel between the islands.
2. Pangkor island
This small, sleepy island has some of the most beautiful beaches in Malaysia and is considered one of the best Malaysian islands on the west coast.
A combination of fishing villages, hotels, and dense jungle gives rise to an attractive, quiet, weekday destination, making it an ideal place to relax. The best way to explore the island is by motorbike, stopping from time to time to admire the view or to dive into the crystal clear waters.
If you love seafood, local products are always fresh and tasty! Pangkor is a 40-minute ferry ride from Lumut Jetty with departures every half hour.
3. Langkawi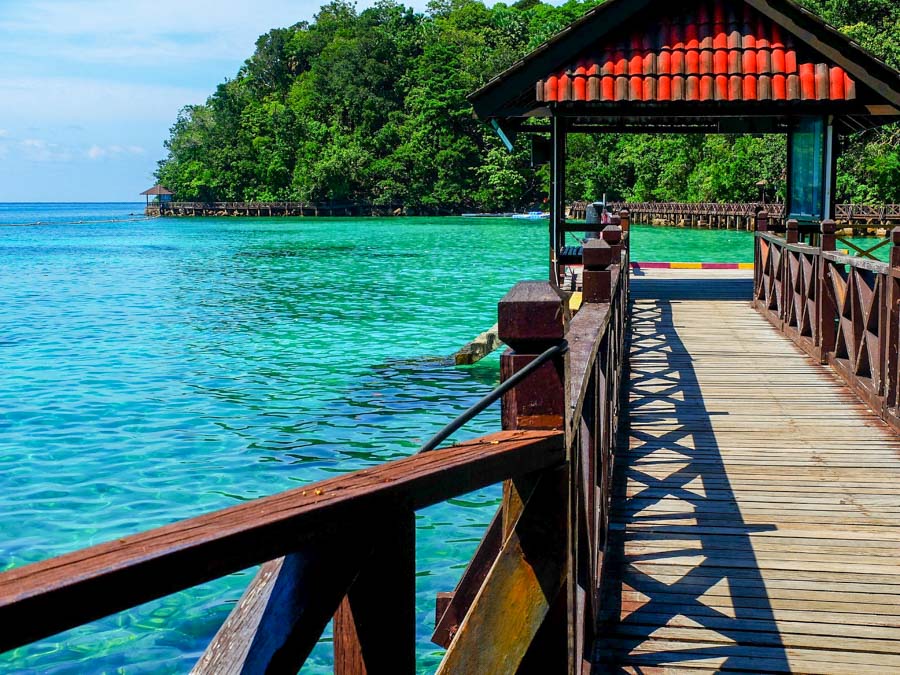 This tropical jewel is an archipelago of about 100 islands in northwestern Malaysia, with Pulau Langkawi being the largest and most densely populated. The island is divided into different districts and offers travelers of all budgets, with backpacker hostels and luxurious all-inclusive hotels.
It's also one of the best Malaysian islands for a vacation, with exclusive resorts in Datai Bay, offering romantic getaways. If you are looking for good nightlife and varied restaurants, the best is to sit in the picturesque Pantai Cenang, with its bars and lounges by the sea.
There are many activities on the island, from swimming in the waterfall pools to jungle trekking, cable car rides, stunning rice fields and gardens, and of course the many beaches with water activities.
Langkawi has a global airport. You can also get there by ferry from some other destinations in Malaysia.
4. Tioman Island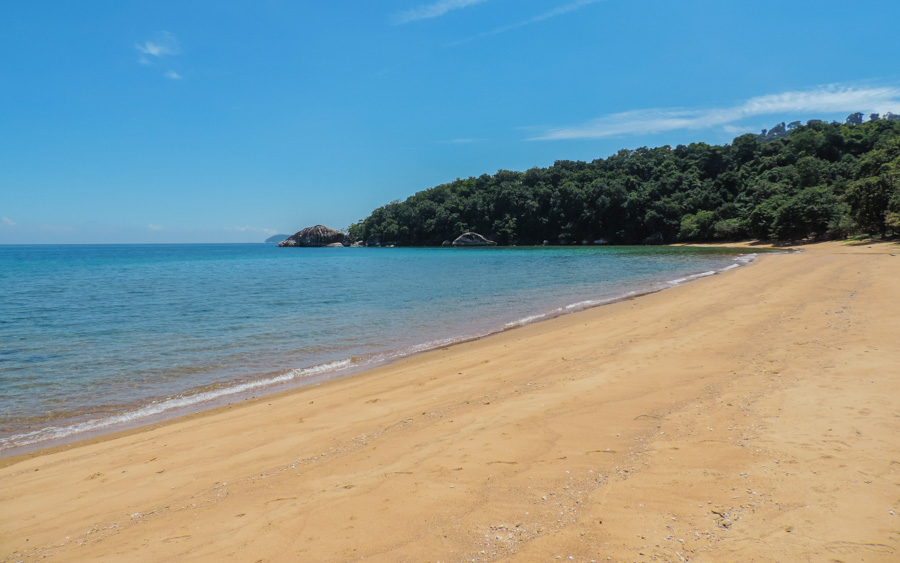 It's easy to lose space and time on Tioman, one of the best islands in Malaysia and one of my favorite places in Malaysia.
This relaxed, idyllic island with beautiful sandy beaches is surrounded by lush jungle and, although I visited it during the high season, I sometimes felt I had the whole island for me!
If you love the deserted beaches with turquoise waters, the beautiful waterfalls surrounded by a canopy in the jungle and the carefree life in the villages, look no further! Tioman offers a wide variety of accommodation ranging from luxury hotels to backpackers 'backpackers' cottages, making it an ideal island for most budgets.
Tioman is a 2-hour ferry ride from Mersing Pier.
5. Mabul Island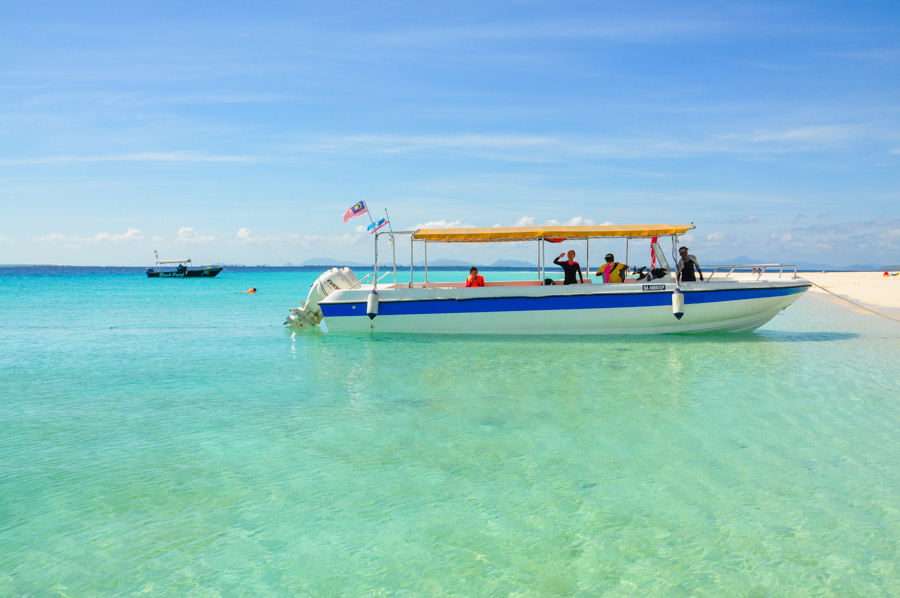 Pulau Mabul is famous for snorkeling, and more for diving, which is the main activity of the island. Located off Sabah, in Borneo, the island is renowned for being an ideal spot for mud diving and is particularly popular with significant photographers.
The island of Mabul is tiny, and you can easily travel in about an hour. Although there are better beaches elsewhere, I include it in this list of the best islands in Malaysia because of its high concentration of marine life which makes it a fantastic destination for lovers of the underwater world!
You can reach Mabul Island by using a boat from Semporna to Sabah.
6. Sipadan island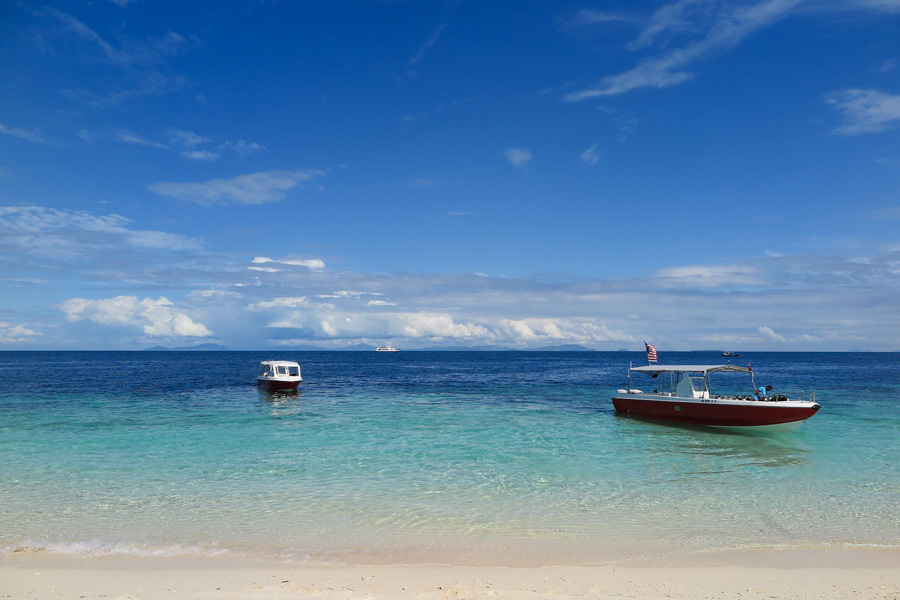 Sipadan is undoubtedly one of the best Malaysian islands to visit if you are a diver. The diving here is first class and is considered to be the best dive site in the world. This is because the island is surrounded by a vibrant coral reef where all kinds of reef fish can be spotted.
The snorkeling around the reef of the island is also an excellent activity for non-divers can usually join dive boats and do some snorkeling in the shallow waters around the dive places.
You're no longer allowed to stay on Sipadan Island, which is now a protected area. Accommodation options can be found on the nearby island of Mabul (see point 2), Kapalai Island or Semporna Mainland.
The number of daily divers on the island is limited, and you are allowed to stay onshore only for a specified period. It is, therefore, essential to plan your dive trip carefully.
7. Penang Island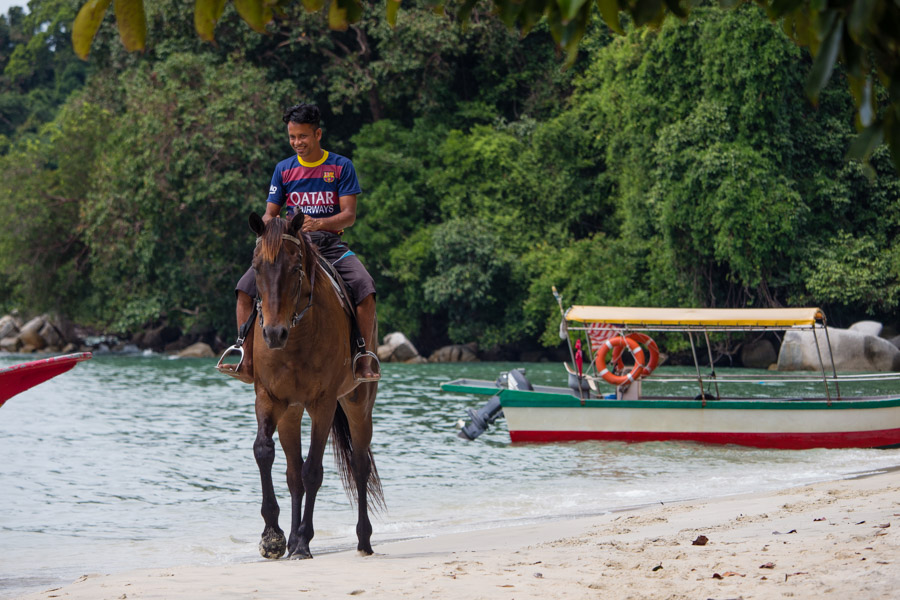 Penang is one of the most popular destinations in Malaysia and one of the best Malaysian islands to visit, especially since George Town, it's capital, the second-largest city in Malaysia and a UNESCO World Heritage Site.
George Town is also a trendy culinary destination offering a variety of street food options. This, combined with its unique architecture and original street art, makes the city worthy of its reputation as a hub of cuisine and art in Malaysia.
While George Town itself lacks ambiance and island beaches; They are a short bus ride from the capital, Batu Ferringhi and Tanjung Bungah, where resorts and hotels line the seaside.
A little further, Monkey Beach has a good stretch of white sand that can, however, be quite noisy with local tourists on weekends, so it is best to visit it during the week for a quieter experience!
You can travel to Penang Island using Malaysia's efficient bus system, as well as by train or plane from Kuala Lumpur. Ferry services to Penang Harbor are also available.
8. Tenggol Island
Pulau Tenggol is another immaculate diving destination, with around 20 dive sites all around. The snorkeling here is superb, and the white sand beaches are excellent.
The island is tiny, and there are several seaside resorts, all of them enough to meet the needs of their guests as there are no other facilities. Usually, guests choose to take all-inclusive diving and snorkeling packages offered by the resorts.
The island is quiet and secluded compared to the other best Malaysian islands, so do not expect a crowd! You can expect a picturesque landscape and an amazing underwater world with well-preserved corals and exotic marine life.
You can travel to Pulau Tenggol by arranging a transfer from the mainland with your resort.
9. Kapas Island
Casual, the little Kapas is my favorite on the list of the best islands in Malaysia, home to many pristine beaches and a very relaxed atmosphere.
Kapas means cotton, and it is not difficult to understand how the name of the island came into being. The sandy beaches are as white as possible and idyllically empty most of the time!
There is not much to do in Kapas, apart from sitting on the white sand and swimming in crystal clear waters, but why would you do anything else here? If you're feeling adventurous, you can explore the other side of the island through dense jungle, but the beaches are much better on the resort side.
Kapas is truly a paradise island that seems to have remained unknown to mass tourism. The small number of resorts is more geared to the backpacker crowd, and it is even possible to camp or sleep in a dormitory. The luxury here is to have your own pristine and private white sand beach.
Kapas Island is accessible by ferry from Marang Pier.
10. Redang Island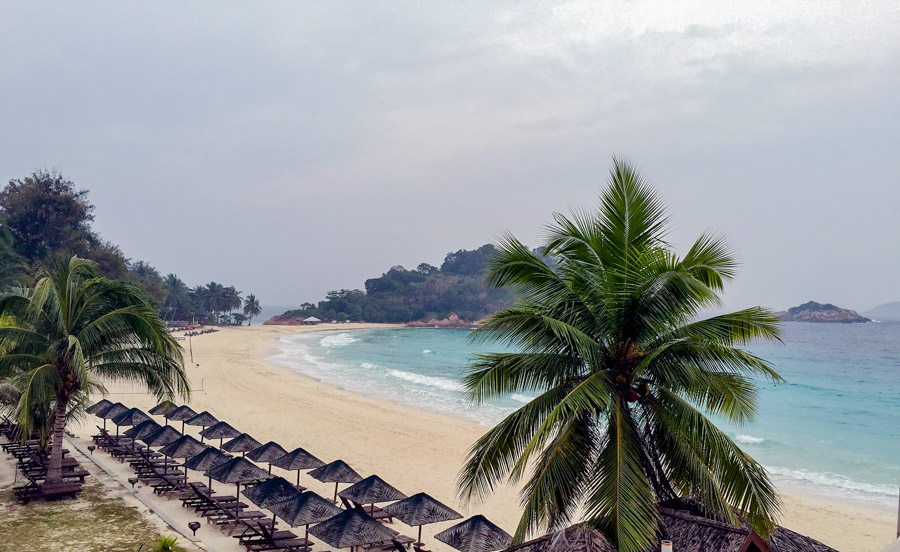 Unlike Kapas Island, Redang does not cater to backpacker crowds but is home to more upscale and rather excellent resorts.
There is no public transport on the island. As a result, you are usually limited to staying near your resort, unless you feel like walking on hot, humid trails or renting a boat. It's not a problem, though. The coastal areas around the island are excellent snorkeling sites because the coral reefs are stunning.
Diving is also a favorite activity here, and you can rent kayaks if you wish to venture further. If you want to experience a virgin underwater world, this is the place for you!
Redang Island is accessible via fast boats and ferries from Merang Pier.
With a large number of such islands in Malaysia, it is sometimes difficult to choose one. I hope you find this list of the best Malaysian islands useful to help you make the right choice for a perfect holiday!